As a retailer, you know that the cost of returns is much more than the loss of a sale. Returns and return fraud have a cascading effect on your business' revenue and profit. The National Retail Federation has compiled returns data for 2022 in a comprehensive report, and the numbers are staggering. A few highlights:
Returns cut into retailer profits
Total returns account for $603 billion in lost sales for U.S. retailers

16.5% of all 2022 sales were returned

For every $100 in returned merchandise, retailers lose $10.40 to return fraud

10.4% of all returns in 2022 were fraudulent returns
But it doesn't stop there. You may be surprised to learn that consumers, communities, and the environment are also negatively impacted.

Consumers
Returns have increased dramatically in the past year for both ecommerce and store sales challenging retailer finances and operations. Retailers typically offset losses from return fraud by increasing prices and reducing costs. This means higher prices, fewer services, and less staff.
Communities
Increased returns are often accompanied by a rise in return fraud, which results in a loss of sales tax revenue for the states and local municipalities. In fact, across the country, states and local municipalities are losing over $4.7 billion in sales tax revenue. This money could have supported vital community services including education, health care, child and elder services, infrastructure projects, and other government-backed programs.
The impact of return fraud on communities:
$4.7 billion lost sales tax revenue: U.S. states and local communities are losing sales tax revenue from sales that should not have been refunded.
Across the country, states are limiting some community services typically funded by sales tax revenue. See how much these losses impacted the top 5 states from coast to coast.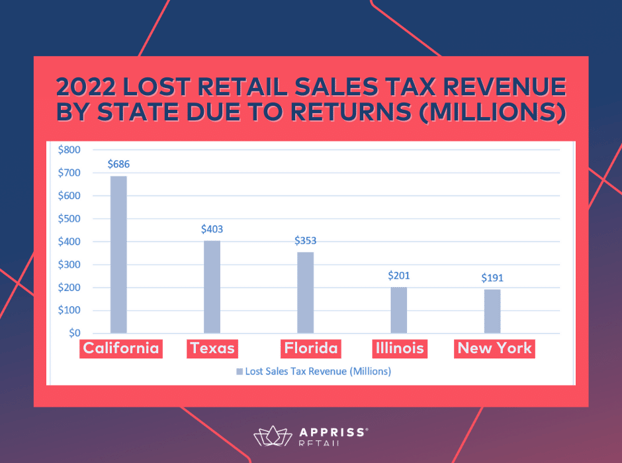 The environment
From an environmental perspective, returned items that cannot be resold not only represent lost revenue and lower profitability for retailers, they also can negatively impact the environment. Unsellable returned products are likely to end up in a landfill, and studies have shown that return shipping produces 15 million metric tons of carbon dioxide every year.
Retailers to the rescue
Returns have become more complex with the widespread adoption of online shopping and buy-online-return-in-store (BORIS), especially if you do not have a full omnichannel view of consumer shopping history. It's critical to understand how retail returns and return fraud affect your shoppers, your business, your community, and the environment. Armed with this knowledge, you can develop best practices to improve return processes, provide more personalized customer service, drive incremental sales to recapture lost revenue, and promote more efficient return channels that minimize the carbon footprint of return shipping.
Summary
After years of rising retail returns, industry stakeholders are motivated to proactively address the root causes for excessive returns and identify impactful tools that can help reduce the need for shoppers to make returns. Retailers will benefit from improved profits and stronger consumer relationships while the communities will benefit from higher employment and better funded civic programs.

For the complete picture of 2022 returns, download our "Consumer Returns in the Retail Industry" report.
This article was originally published March 21, 2022 and has been updated with new information.
Author
Leslie Nienaber, Digital Marketing Manager, Appriss Retail
Leslie researches business trends and distills the information for a retail audience. Her marketing experience has covered a wide variety of industries, including promotional products, microbiology, print, and mail. She spent five years in the retail industry before graduating with her Bachelors in Business Administration from John Carroll University.