Consumers have opinions on which retailers (and which of their store locations) are their go-to stops. These are the ones that have the freshest produce, the best variety of clothing or shoe sizes, the most organized shelves, or the most reliable employees. They don't keep these opinions to themselves, either – word of mouth, online reviews, and discussions on social media can quickly separate the good stores from the rest.
There are many components to providing a great customer experience. Having the right inventory on-hand is high among them. It's key to ensuring that consumers not only have a positive experience with one store, but with an entire brand.
1. On-Hand Inventory Leads Online Browsers to a Great In-Store Experience
BOPIS (buy-online-pickup-in-store) has become one of the leading ways to make shopping convenient for consumers. According to a study from NRF, 70 percent of consumers who have used BOPIS said it improved their shopping experience. Many retailers offer BOPIS, but those using solutions with real-time accuracy, which allow consumers to see what items are in stock at any given moment, are the ones winning at it.
With BOPIS, real-time inventory visibility and fast, accurate promise dates are crucial. Consumers who need an item immediately are not searching for the best price – they're looking for a retailer who can quickly tell them how much of that item they have on-hand, which stores nearby have it, and how long it will take for them to have it available for pickup. A good majority of shoppers – 71 percent, according to this survey – would rather go to a store than pay for expedited shipping. Clarity and convenience mean a lot. Each time a retailer is able to show a consumer that, at that very moment, it has what they need at a store nearby, it is one step closer to earning a loyal customer.
BOPIS exists for the convenience of the consumer. When that consumer is inconvenienced through an incorrect in-store item availability, they are taking their business, and perhaps even their loyalty, elsewhere.
BOPIS has added benefits for the consumer experience as well. Being able to touch a product, try it on, or test it out immediately in the store saves consumers time and gives them the confidence that they are making the right purchase. A negative BOPIS experience, on the other hand, is enough to lose a consumer's trust. BOPIS exists for the convenience of the consumer. When that consumer is inconvenienced through an incorrect in-store item availability, they are taking their business, and perhaps even their loyalty, elsewhere.
2. It Means Less Mess and Better Operations
A pleasing, well-stocked sales floor depends on a clean, organized stock room or warehouse. Both are achievable when stores continuously monitor and adjust their inventory to identify shrink, out of stock or excess stock, as well as the correct number of units on-hand right now. Improving these operations benefits retail employees and consumers alike.
Time is valuable for store associates and their managers, especially during busy seasons. Retailers choosing to integrate improved, real-time solutions into their existing inventory systems can avoid performing excess inventory recounts and corrections. This allows store employees to spend time where they are needed most. More associates on the sales floor allows for shorter checkout lines, enhanced customer service, as well as an extra deterrent for fraud or theft that may have otherwise gone unnoticed. It even means more opportunities for employees to go the extra mile, whether that is by fulfilling a BOPIS order faster, quickly looking up and grabbing a product for a customer, or just having more time to build rapport.
For consumers, organized inventory and the ability to have what is needed on-hand translates into well-stocked, clutter-free shelves. This directly impacts a consumer's ability to quickly find what they need and instills confidence that the next time they shop at that location, they will have the same positive experience. Consumers may be especially anxious about finding what they need after experiencing the bare shelves caused by panic-buying due to the COVID-19 pandemic. Moving forward, a large part of easing consumers' worries and improving their shopping experiences once again will involve ensuring shelves are well-stocked.
3. It Gives Returners New Purchase Options
Most consumers who need to return online purchases do not want to deal with packing and shipping their items back to a retailer, and they certainly don't want to wait for the purchase amount to be applied back onto their credit cards. These are several of many reasons why buy-online-return-in-store, or BORIS, has become so popular and accounted for $20B in returns to brick and mortar stores in 2019.
When a consumer chooses to return an online order in-store, it provides an opportunity to greatly enhance the customer experience: If the consumer can find the correct item (or a replacement) while they are still in the store, they will have saved a trip elsewhere. It even helps alleviate the frustration of a consumer having to order online again and waiting for the item to be shipped and delivered.
Prioritizing inventory accuracy can mean less loss for retailers and more competitive pricing for consumers – a win-win scenario that will continue to benefit both parties in the long-run.
Having accurate on-hand inventory is a way to ensure that consumers are presented with these loyalty-boosting experiences. Instead of retroactively trying to correct inventory issues that arise from a popular return item, an inventory management system that uses artificial intelligence to identify needs in real-time can help retailers be proactive about having the right alternatives available to consumers at the right moment. Additionally, it can be used to make undamaged returns available for other consumers to purchase, especially in stores where those items are fast-selling and in higher demand than other store locations.
BORIS transactions aside, the right on-hand inventory benefits any consumer making a return. Having a variety of sizes, models, or close alternatives on-hand saves consumers time and can even soften the disappointment that led to the return. Customer service can be increased even more when store associates are trained to search for item replacements or alternatives at the return counter, as well as when they are able to offer incentives targeted directly to that consumer.
4. It Keeps Pricing Fair
Any consumer can compare prices with the click of a button. For retailers, offering competitive pricing is a great way to get first-time consumers into a store, with the hopes that other good customer service measures will keep them coming back from that point forward.
Inaccurate on-hand inventory can happen when a store is not identifying or preventing waste, shrink, or fraud. Stores may have to increase prices in order to accommodate for these losses. Many grocery stores, for example, operate on a one percent profit margin – they must recover $100 for every $1 of loss. Products with short shelf lives, as well as seasonal items, may cause stores to adjust their pricing elsewhere to compensate for the money lost on excess inventory that has gone to waste.
Prioritizing inventory accuracy can mean less loss for retailers and more competitive pricing for consumers – a win-win scenario that will continue to benefit both parties in the long-run.
On-Hand Inventory Matters
The ever-expanding world of omnichannel retail has allowed consumers to purchase and return goods faster than ever before, and with more options. Retailers who do not have a firm grasp on their inventory in real-time cannot make adjustments in real-time in response to increased demand, waste, fraud, and shrink. This affects consumers in numerous ways – from providing subpar in-store experiences, to leaving consumers frustrated with online pickups and returns. Having what consumers want is what gives a retailer business. Having it at the right place and time is what keeps them coming back.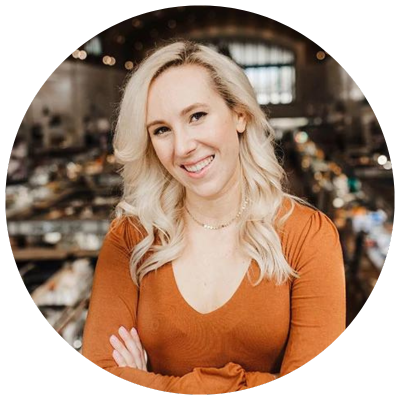 Author
Leslie Nienaber, Digital Marketing Manager, Appriss Retail
Leslie researches business trends and distills the information for a retail audience. Her marketing experience has covered a wide variety of industries, including promotional products, microbiology, print, and mail. She spent five years in the retail industry before graduating with her Bachelors in Business Administration from John Carroll University.