For the retail and staffing industry, warm weather heralds a heightened focus on temporary hires and rolling out a slew of part-time roles. With an abundance of the younger demographic available for temp positions over the summer break, several industries (including retail, hospitality and manufacturing) begin to fine-tune their hiring plans. Going into effect in the mid/late summer period, the hiring plans center around ensuring a strong temporary workforce for the holiday season.
In this post, we break down top challenges while making the case for a robust approach to seasonal hiring specific to the Retail, Staffing and Franchising industries.
The Case for Temps
To begin with, it is critical to understand the needs and trends of the job market that can be helpful in identifying potential temp-to-hire opportunities and most possibly, turn those summer jobs and temp positions into a direct hire.
Companies often rely on temp agencies to support their hiring needs for a short or set period. This can be a huge opportunity for candidates looking to get their foot in the door. These agencies are a boon for employers filling temporary positions with the added advantage of turning them into direct hires – trained and ready for the role!
Temporary careers are becoming increasingly common in the American workplace. According to US Bureau of Labor Statistics (BLS), the US staffing industry will grow 4% in 2019 to reach a record $153.5 billion. Meanwhile temporary positions notched up 18,000 jobs in the month of April and total non-farm employment is set to grow 3% this year to reach a record $132 billion.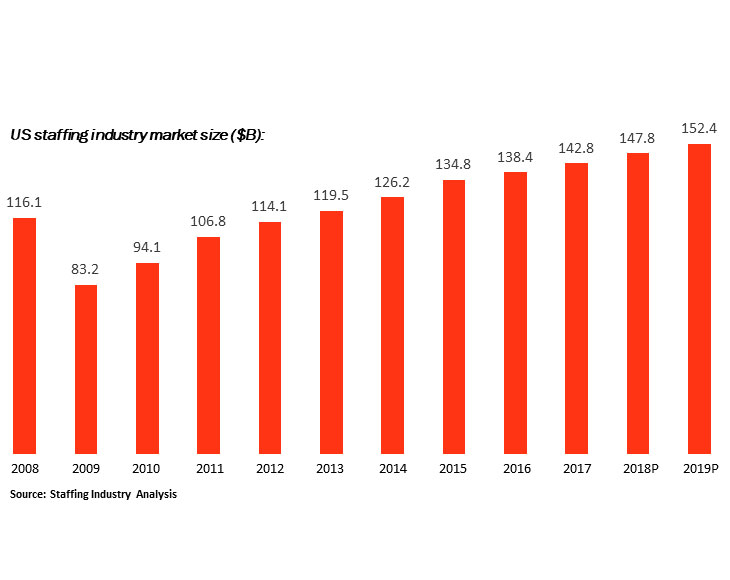 Steps to Success
When preparing for a strong hiring season, having a strong recruitment strategy is a must. Key areas of focus to enable successful hiring initiatives include:
Setting a clear definition for your hiring needs – how many people do you need to hire, by when, in what specific locations and areas and for which positions?
Having the right tools in place – are your recruiters prepared for successful hiring initiatives that tie directly to hiring goals and are they ready to compete for sourcing and hiring top talent?
Knowing what your candidate profile needs to look like – is your clear job description free of ambiguity?
Attracting talent through a strong brand in market – once your job descriptions are set, check whether they reflect your culture and values, or showcase an ideal place where candidates want to work not just short term but potentially longer term as well.
Peak season hiring is upon us. Summer is about to go into full swing. Be sure you can stay cool and consistent in this hot hiring market by securing the best candidates and talent for your organization's upcoming hiring needs.
This post originally appeared on the Sterling blog.
This publication is for informational purposes only and nothing contained in it should be construed as legal advice. We expressly disclaim any warranty or responsibility for damages arising out this information. We encourage you to consult with legal counsel regarding your specific needs. We do not undertake any duty to update previously posted materials.
Sources:
https://www2.staffingindustry.com/site/Research/Research-Reports/Americas/US-Staffing-Industry-Forecast-April-2019-Update
https://money.usnews.com/money/careers/articles/2013/05/22/9-reasons-to-take-a-temporary-job
Do you know what seasonal employee fraud looks like? Read more about it in this blog article:
Author
Vincenza Caruso-Valente, General Manager of Staffing, Retail, and Franchise, Sterling
Vincenza is the General Manager of Sterling's Staffing, Retail, and Franchise group, holding P&L accountability of the business lines. She previously held SVP roles leading teams that supported Sterling's largest clients in Staffing, Retail, Gig, and Tech. She also played integral roles in Sterling's M&A growth strategy. Her teams are dedicated to consulting clients on building best-in-class programs, optimizing the candidate experience, managing scale in growth eras, reducing time-to-hire, and driving profitability. Her team efforts have driven a 98% client retention rate. Prior to Sterling, Vincenza spent over 11 years in leadership roles in sales, business development, and finance at Dun & Bradstreet, AT&T, and EDS.