A loss prevention professional's personal experience in the dramatic increase in ORC activity
Organized retail crime (ORC) is at its highest level of all time, and return fraud plays a big part. ORC losses averaged $777,877 per $1 billion in sales in 2018, up 7% from 2017's previous record of $726,351.
Retailers attribute the increase to the easy online sale of stolen goods, gift card fraud schemes, shortage of staff in stores, and demand for certain brand name items or specific products. To make matters worse, several states have increased the threshold for a theft to be considered a felony. This means criminals can steal a larger quantity of goods while keeping the crime a misdemeanor and avoiding the risk of higher penalties that come with the commission of a felony.
Not only do retailers lose money, but state and local governments lose tax revenue. This is money that could be used for schools, roads and bridges, and to assist drug addicts with the help of recovery programs. The massive losses to ORC affect whole communities.
My Years at the Forefront : Uncovering Retail Crimes
Over the last 30 years I have seen the retail industry grow and evolve. I have also watched individual petty crimes transform into ORC.
I started my career as a store detective with a department store in Dedham, Massachusetts. As a Northeastern University Co-op student working full-time and going to school full-time, it was an experience learning about criminal justice while I was learning about shoplifting laws, building relationships with law enforcement, prosecuting cases through the court system, and interacting with attorneys, clerk magistrates, and judges.
After researching and tracking individuals returning merchandise, I discovered we had a big problem. The store's policy was to give check refunds in the mail to anyone who returned merchandise without a receipt.
As time went on, I was promoted to management and worked with the stores promoting awareness and educating my staff and store associates on different types of theft and fraud.
One of the biggest issues affecting retail stores then and now is return fraud. We had frequent individuals and groups returning merchandise with and without receipts, and we always wondered how they got the merchandise.
Years later working in the investigations department I was directed to analyze why our return problem was so consistent. After researching and tracking individuals returning merchandise, I discovered we had a big problem. The store's policy was to give check refunds in the mail to anyone who returned merchandise without a receipt. I soon uncovered that individuals and groups were stealing price tags from the stores and then re-attaching the tags to lesser value merchandise obtained at consignment stores or yard sales. One female, later determined to be a law student at Boston College, attempted to return $4,000 dollars' worth of merchandise that I had held and determined was fraudulent. As I reviewed her history, I saw that we had been giving her thousands of dollars each month that she was using to live off campus and drive a fancy red sports car. After we exposed this vulnerability in our system, the company moved away from check refunds and started issuing store credits.
In the 1990s we had no tracking or monitoring system in place and we could not determine the full extent of the losses. It did not matter what policy or system was put in place because over time the fraudsters manipulated and defeated what was in place. Also, in the 1990s, gift cards revolutionized gift giving, store credits, and, unfortunately, fraud schemes.
In 2002 I worked as a National Task Force Investigator for a large off-price retailer. My role was strictly organized retail crime investigations—a new designation. We investigated credit, gift card, check, and return fraud. A lot of the time we initiated our cases by going through the returns at the stores looking for same names, specific merchandise and high dollar returns for cash, credit cards, or gift cards.
ORC Today Is More Sophisticated & Complex: Credit Cards, Gift Cards, Return Fraud, and Opioids
Fraudsters today make fake receipts, price tags, and they also clone credit cards and gift cards causing huge losses to retailers. The 21st century return fraud is so much more complex and sophisticated that loss prevention personnel need to be up to date with the latest technology and schemes, so they can combat this never-ending battle. We all think the internet is great, but to retailers it's an opportunity for the fraudsters to steal more products to sell online or obtain gifts fraudulently through return fraud or through the purchase of stolen credit cards to sell the gift cards online.
The following infographic shows the top items stolen by ORC groups. They are easily fenced or easily returned for store credit.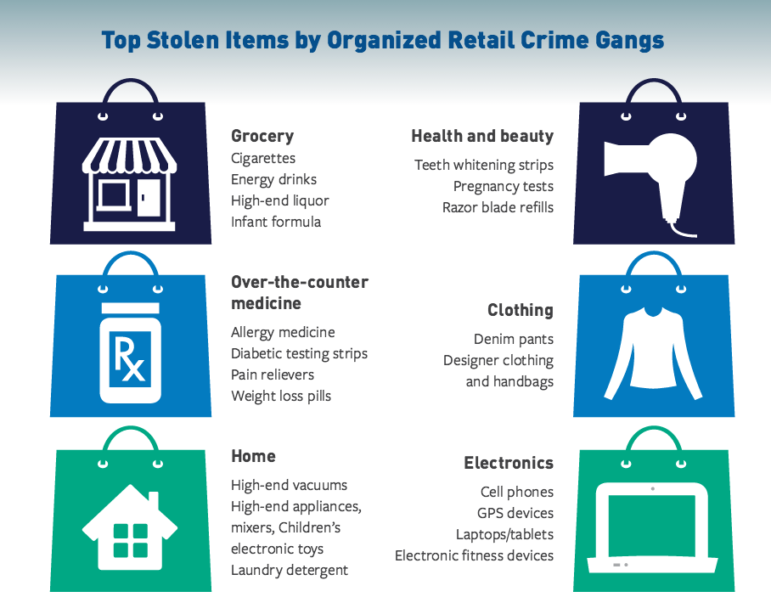 Return fraud is funding ORC gangs, and gift cards are fueling the opioid crisis. Watch this CNBC news report directly linking addicts, return fraud, gift cards, and drug dealers.
In 2012 I created the National Anti-Organized Retail Crime Association, now NAORCA Worldwide, to gang up against these crimes and demand the retail industry give us the necessary tools to combat these sophisticated complex retail crimes. The association's mission is to work with all companies and law enforcement to find viable solutions that work to assist retailers from losing billions of dollars a year and tax revenue that can be used in our cities and towns.
References:
Survey says: Spike in Organized Retail Crime – Even in NH, Where Laws Are Tougher
Author
Christopher J. McGourty, Executive Director of NAORCA Worldwide
Christopher J. McGourty is the Founder and Executive Director of NAORCA Worldwide – The National Anti Organized Retail Crime Association. Christopher has 30 years in loss prevention, ORC investigations, and consulting and is currently pursuing his MS in Cybersecurity at Southern New Hampshire University.