Executive Summary
COVID-19 case counts are climbing in the US. Millions of people in the United States are, or were recently, under some form of stay home order. This has led to a dramatic rise in unemployment. Historically, the data science team at Appriss Retail observed a relationship between unemployment and retail risk/shrink indicator metrics monitored by a variety of our products.

Therefore, retail risk is expected to increase as stores re-open. In fact, we anticipate that returns will be one of the many exposures where there is some level of pent up demand and increased risk.

Retail is now entering a recovery stage, with a focus on making consumers feel welcomed and rapidly increasing sales revenue. As a result, retail Asset Protection/Loss Prevention teams may need to consider a variety of risk mitigation strategies to ensure they will enhance customer satisfaction and meet revenue objectives as trading restarts.
As of April 7, 2020, 94.5%, or approximately 306.3 million people in the United States, were under some form of stay home order. Forty-two states declared state-wide stay home orders and three others declared partial stay home orders in selected counties.1 As of April 11, every US State was under a major disaster declaration for the first time in history.2
As individuals wait to return to normalcy, many retailers are also awaiting the re-opening of their businesses, and employees everywhere are anxious about their income. Global Data Retail estimates that by March 18, over 190,000 retail store locations accounting for approximately 50% of the retail square footage in the US, was shut down as non-essential.3 24.6 million initial unemployment claims were filed between March 15 and April 18.5
Even before the crisis, American households were increasingly leveraged. Household debt is currently estimated to be more than $1.5 trillion higher than its last peak in 2008 and has risen for 22 consecutive quarters.6 To the degree that COVID-19 persists in creating and exacerbating economic pressures we will be working to provide our retail customers with the most updated information available as to the impacts we are seeing in measures that relate to retail economic health.
In this article the Appriss Retail Data Science team is using data from the Department of Labor, the US Census Bureau, The COVID Tracking Project, and the aggregated and de-identified Appriss global retail transaction database. It illustrates the current strong relationship between unemployment and retail risk/loss prevention incidents, including returns. We intend to analyze and publish multiple articles as the coronavirus pandemic evolves, with this piece being the second in our series. Note: We used an alternate source for COVID-19 data for this piece since Johns Hopkins took their US data offline for a period time for re-formatting while this article was being constructed.
Part 1, COVID-19 Statistics
When we collected data for our first research published on March 25, 2020, there were just under 20,000 COVID-19 cases in the US. As of April 28, that number has climbed to 1,039,501 confirmed cases and 59,459 deaths. New York leads in the number of cases per 500K population but is currently declining in terms of percent of total US cases. On April 15, 32.7% (213,779) of total US cases were from New York. By April 27 that number had declined to 28.4% (295,106). (We have created an additional dashboard monitoring COVID-19 trends at state level that is being made available publicly and updated Monday-Friday at approximately 6:30PM EST for the duration of the crisis.)7
As of April 28, 2020, New York, New Jersey, Massachusetts, Connecticut, and Rhode Island had the highest case rates after controlling for population. Rhode Island now replaces Louisiana in the top 5 vs. two weeks prior. New York had 7,585 cases per 500K population followed by New Jersey (6,409), Massachusetts (4,229), Rhode Island (3,741) and Connecticut (3,690).
The relationship between number of cases per 500K and population density has strengthened slightly in the last few weeks and we currently observe an R-squared value of .42 at state level (R-squared is a measure of the strength of relationship between two variables on a scale from 0 to 1).
The US mortality rate trend has reversed in recent weeks and is climbing; as of April 28, it was 5.72%. To the degree that tests remain limited to patient populations with the highest likelihood of testing positive the mortality rate may be incomplete as both positive cases and deaths may be understated.
Part 2, Unemployment Statistics
Historically the data science team at Appriss Retail has observed a relationship between unemployment and shrink indicator metrics monitored by a variety of our retail products.
Between January 2020 and March of 2020, unemployment in the US rose from 3.6% to 4.4%. By the end of April it reached 14.7%.8 The total number of new (initial) unemployment claims between the first week in January of 2020 and the week ending April 18, was 27.1 million. Of the 27.1 million initial claims, 24.8 million (approx. 91.7%) were filed between the week ending March 7 and the week ending April 18.9
There are many costs associated with unemployment. Unemployment has consequences for individuals, families, society and the economy as it adversely impacts poverty, health, children and family relationships, crime, and racism.10 That crime is a correlate of unemployment is well documented. According to Ray and Hooper (1988), shoplifters showed that they were more likely than other shoppers to be experiencing economic stresses, social stresses, and depression and were concerned about having money for necessities and for repaying debts. Economic need was found to be related to shoplifting with shoplifters being more likely to have a lower family income and to be unemployed. A causal relationship was noted between youth unemployment and burglaries, theft, and drug offenses.11
Even more important, unemployment can have a long-term impact on crime, as illustrated by Hagan (1993). The Hagan study noted that as youth becomes embedded in criminal activities and environment, they are more likely to be continuously isolated from the likelihood of legitimate employment in adulthood. Therefore, just as unemployment can lead to increase in crime; having higher crime rates for a longer period can also be associated with higher unemployment.
The duration of the unemployment also plays a critical factor in crime.12 An increase in the duration of unemployment was significantly related with multiple measures of young offenders including property offenses and violent offenses. Those young individuals who've been unemployed for 6 months or longer had 3 to 10.4 times higher levels of offending than those who have not been unemployed.13
The following chart shows US unemployment by month since 2017.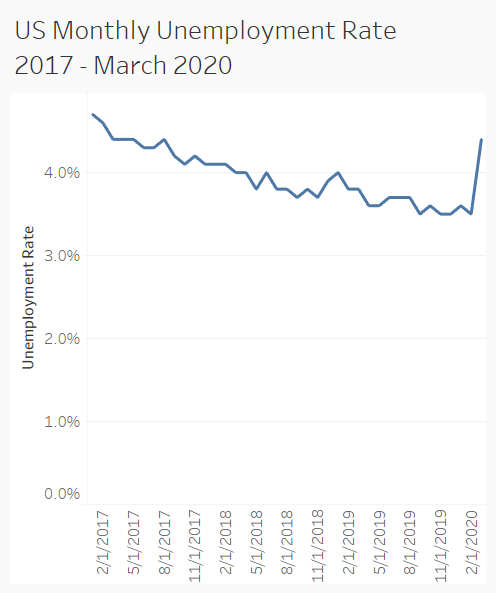 Unemployment is likely to affect each state differently based on the proportion of impacted industries within a given state. As a result, the states impacted by COVID-19 itself are not necessarily the same states that will be most impacted economically.
The Brookings Institute estimates that 24.2 million Americans work in five industries heavily affected by COVID-19 related shutdowns including: energy, transportation, travel, employment services, and leisure.14 The following chart shows initial US unemployment claims by state for the week ending April 18, 2020.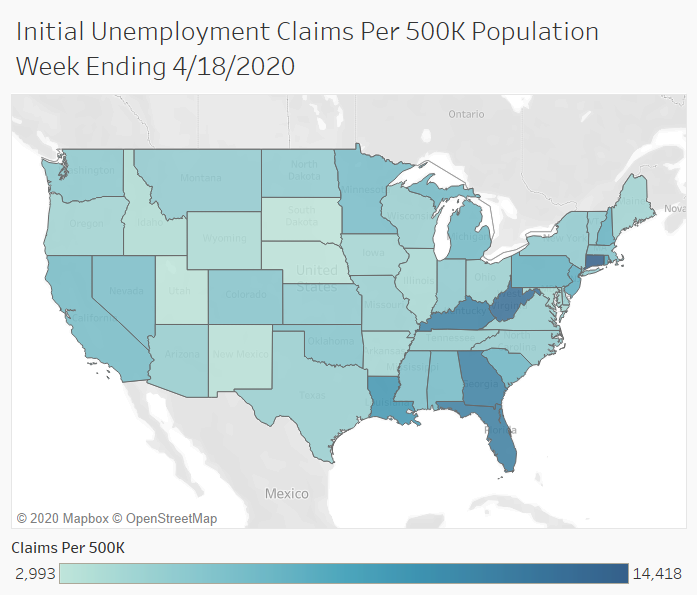 Part 3, Unemployment and Retail Risk Metrics
To assess the relationship between unemployment and retail risk loss prevention incidents, Appriss Retail polled US retailers in our global aggregate transactional database and extracted total case dollars and count of cases for incidents labeled as both external and internal by month for the years 2018 and 2019. External incidents included aggregated values and counts labeled in our metadata as shoplifting, robbery, burglary, or other external. We calculated the average US case dollars for each month and smoothed it using a 6-month moving average. Both the average case dollar moving average and the monthly unemployment rate were placed on the log scale.
Comparing the two metrics we observed an R-squared of .70 indicating a close positive relationship between changes in unemployment and changes in average case value for Asset Protection teams as seen in the graph following.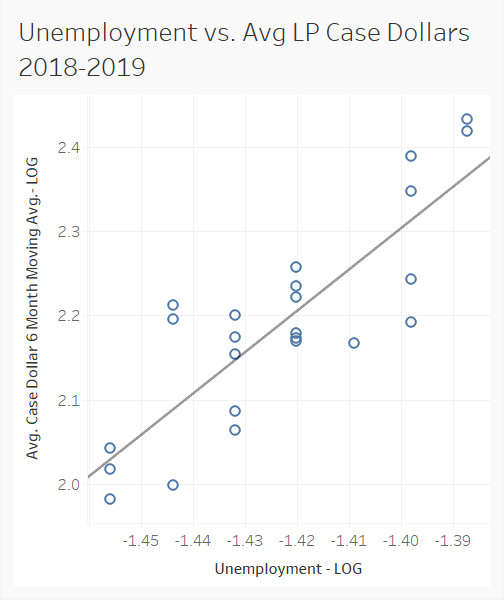 Notably, when we isolated external incidents from internal incidents this relationship was driven primarily by the external group.
This aligns with findings related to internal employee shrink trends reported by the 2019 National Retail Security Survey (NRSS) that indicate that average employee case values have mostly held steady in the last few years despite lowering levels of both unemployment and number of employee apprehensions.15
Given these findings we focused on external consumer retail risk indicators and next examined the historical relationship between the US unemployment rate and return rate.
A 6-month moving average of same stores return rate (in dollars) for US retailers in our global transaction database was compared to the monthly unemployment rate as reported by the US Department of Labor. Here we also identified a positive relationship between the two metrics with an R-squared of 0.30.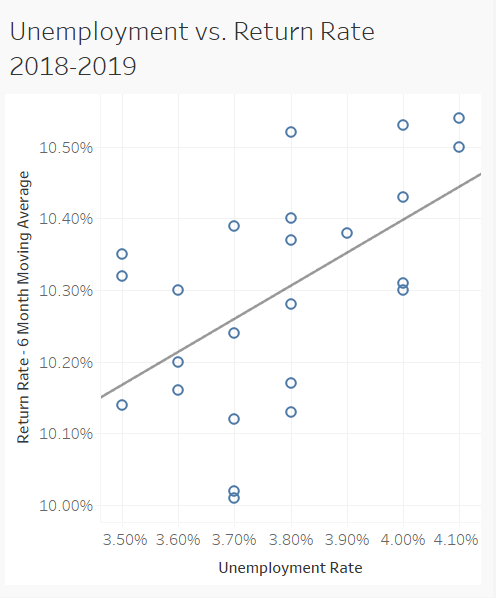 With many retailers altering return policies or restricting returns altogether during closure periods, and e-commerce sales up an estimated 25% in the US (due to the closure of brick and mortar locations16) we anticipate that returns will be an area where there is some level of pent up demand and increased risk.
The COVID-19 pandemic is a unique situation that has created unprecedented stresses on families, employees, businesses, and the economy. It is likely that those stresses will manifest themselves in increases to high risk behaviors similar to increases the industry previously experienced post 9/11 and the last financial crisis17. We expect this risk to be potentially elevated to the degree that retailers re-open and return to normal operations with less restrictive return policies than prior to the pandemic to soothe consumer frustrations.
Limitations
For the purposes of this analysis, we did not distinguish between brick-and-mortar returns vs. buy-online-return-in-store (BORIS) returns.
While the aggregated data used here crossed several different segments of retail, it does not represent the entirety of the Appriss Retail client base.
Our global transaction database does not track the same metrics for all retailers, so each metric we analyzed may represent a different crosscut of retailers. In every case we ensured that multiple (and similar) retailer segments were included in each section to reduce the risk of segment differentiation driving any reported differences.
As new information becomes available, we will continue to monitor and report on the trends examined above.
To our client family: Thank you for your efforts during this pandemic. Regardless of which of our solutions you may have deployed, rest assured that Appriss Retail is a trusted, financially stable partner throughout this recovery period.
Our objective is to use both de-identified metadata from own clients and data from reputable sources to present a factual representation of this once-in-a-lifetime event.
© April 2020. Appriss Retail. All Rights Reserved. Proprietary & Confidential.
This article was updated shortly after publication to reflect newly released April unemployment figures.

1 Woodward, A & Secon, H. About 95% of Americans Have Been Ordered to Stay Home. Extracted from BusinessInsider.com on April 16, 2020.
2 Newburger, Emma. (April 11, 2020). Every US State Is Now Under a Major Disaster Declaration Amid the Coronavirus Pandemic. Extracted from cnbc.com on April 16,2020.
3 Danzinger, Pamela (April 3, 2020). List of Retail Companies on Bankruptcy Watch is Growing Fast Amid Coronavirus Crisis. Extracted from Forbes.com on April 16, 2020.
4 Pickert, Reade (April 9, 2020). Third Week of Big U.S. Jobless Claims sees 6.61 Million Filings. Extracted from Bloomberg.com on April 16, 2020.
5 United States Department of Labor. Unemployment Insurance Weekly Claims Data. Extracted from https://oui.doleta.gov/unemploy/claims.asp on May 3, 2020.
6 Federal Reserve Bank of NY (February 13, 2020). Household Debt Tops $14 Trillion as Mortgage Originations Reach Highest Volume Since 2005. Extracted from newyorkfed.org on April 16, 2020.
7 https://public.tableau.com/profile/renee.dewolf#!/vizhome/MACOVID19Trends/Dashboard2
8 US Bureau of Labor Statistics. Labor Force Statistics from the Current Population Survey. Retrieved from https://data.bls.gov/cgi-bin/surveymost on May 8, 2020.
9 United States Department of Labor. Unemployment Insurance Weekly Claims Data. Extracted from https://oui.doleta.gov/unemploy/claims.asp on May 3, 2020.
10 Piachaud, 2005.
11 Fougere, Kramarz, & Pouget, 2003
12 (Fergusson, Lynkey, & Horwood, 1997
13 (Fergusson, et al, 1997)
14 Muro, M., Maxim, R. & Whiton, J. (March 17, 2020). The Places a COVID-19 Recession Will Likely Hit Hardest. Retrieved from brookings.edu on April 17, 2020.
15 National Retail Security Survey (2019). Retrieved from https://cdn.nrf.com/sites/default/files/2019-06/NRSS%202019.pdf on April 27, 2020.
16 Koetsier, J. (March 31, 2020). E-Commerce up 25%, Online Grocery Shopping up 100%, Virus Protection Products Up 807%. Retrieved from forbes.com on April 17, 2020.
17 NASP (May 5, 2020). Preparing for an ORC Epidemic Post COVID19. Retrieved on May 5, 2020.
Author
Renee DeWolf and Dr. Adi Raz, Appriss Retail
Renee DeWolf is the director, data sciences and modeling at Appriss Retail and an adjunct instructor of Data Science, Cybersecurity and Business at Utica College in New York where she also earned her MBA in Economic Crime and her MS in Data Science/Cybersecurity. She holds several industry certifications including Certified Fraud Examiner. In her free time, Renee serves as a board member of the National Association of Drug Diversion Investigators (NADDI.org) and is the resident data scientist at RI Rank. Renee is currently a doctoral student in the Information Sciences program at UALR.