Executive Summary
• The COVID-19 pandemic significantly increased the already growing adoption trajectory for contactless payments.
• Contactless payments are safer, faster, and carry less risk than cash payments – in line with for today's retail environment, and on-trend with tomorrow's consumer expectations.
• Mobile wallets and contactless payments might cause a problem for some retailers to link consumer retail behaviors for loss prevention or shopper marketing programs.
• Appriss Retail is strongly positioned to assist retailers in maintaining linked consumer purchase and return histories as tokenized contactless payments use increases.
Previously, we reported that approximately 306.3 million people in the US were under some form of stay home order as of April 7, 2020. By May 20, all 50 states had begun the process of easing restrictions and re-opening their economies. The re-opening has not moved completely in a straight line, but while some states rolled back re-opening measures amid new case increases, at the time of this writing, the rollbacks have largely not impacted most brick and mortar retailers outside the restaurant and entertainment segments.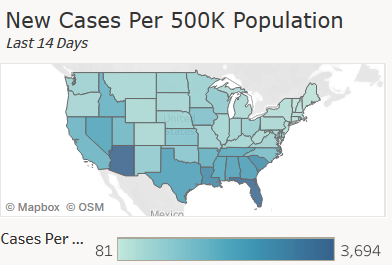 In this article the Appriss Retail Data Science team is using data from the US Census Bureau, The COVID Tracking Project, and the aggregated and de-identified Appriss global retail transaction database to examine certain trends related to methods of payment, particularly in the area of mobile wallet and contactless payments. This report illustrates the increases in contactless payments as retail businesses have re-opened.
Part 1, COVID-19 Statistics
When we collected data for our first research published on March 25, 2020, there were just under 20,000 COVID-19 cases in the US. By April 28, when we wrote our second piece, that number had climbed to 1,039,501 confirmed cases and 59,459 deaths. As of July 13, the United States has confirmed 3,472,251 cases and 138,156 deaths. After adjusting for population, the US is now ranked 12th in the world in cases per 1 million population with 10,489. There is no country with a population greater than 20 million with a higher population adjusted case rate. Italy, once the global epicenter of the pandemic, is ranked 37 with 4,023 cases per 1 million population.
The United States currently ranks only 23rd in terms of population adjusted testing; however, the two countries outperforming the US in population adjusted testing with populations of 20 million or greater are the United Kingdom and Russia.
In terms of deaths, the US currently ranks 9th after adjusting for population. It fares better in comparison since a handful of these countries have populations exceeding 20 million. Italy currently ranks 6th, and the UK, Spain, Sweden, and France also register higher population adjusted deaths. Notably, Sweden opted not to shutdown at all in response to the pandemic.
Part 2, Payment Statistics
According to the Federal Reserve1, cash has lost its top position as the most frequently used payment type in the US. Debit cards now account for 28% of payments vs. 26% of payments made with cash.
More than 70% of Americans2 use at least one credit card and slightly more than 15% of Americans have 5 or more credit cards. A 2018 survey by Speedpay Pulse3 found that 55% of American adults stated that they value the convenience a mobile wallet offers.
An Accenture Consumer Payments Pulse4 survey reports that 64% of consumers plan to use a mobile wallet in 2020, up from 46 percent in 2019 —a 39 percent rise in the user base. According to Investopedia5, some of the most popular mobile wallets in 2020 include: Apple Pay, Google Pay, Samsung Pay, PayPal, Venmo, Walmart Pay, and Starbucks Wallet.
Investopedia6 also notes that contactless payments are faster than cash or chip-and-pin or chip-and-signature payments. Finally, because they are electronic, like most other credit and debit payments, they are less prone to the risks of cash for theft, transportation, or storage.
The global mobile payment market size is forecast to reach a value of $3,695 billion by 20247. This represents a significant projected increase from the $897 Billion in 2018 and is a compound annual growth rate of 26.9% during the forecast period (2019-2024).
We examined payment methods using Appriss Retail's global client database with US retailers that were both impacted by shutdowns and those that were categorized as essential services and allowed to remain open. As an expected result of some retailers being forced to conduct business exclusively through their ecommerce channels, cash payments in our consolidated US retail database declined during the COVID store closure period.
More interestingly, when data was limited to only essential retailers that were not forced to close during the COVID shutdown period, the decline in cash payments persisted – with a reduced effect.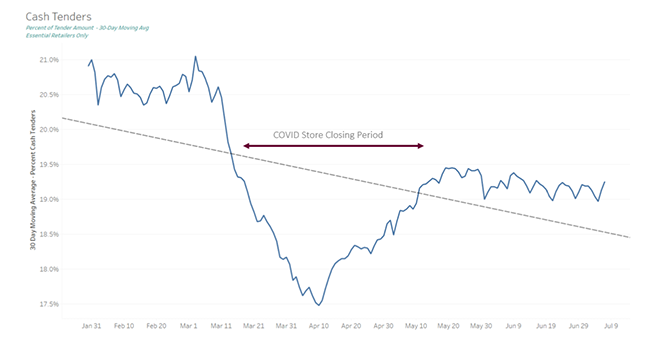 Not surprisingly, the trend with debit and credit card tenders as a group was the inverse.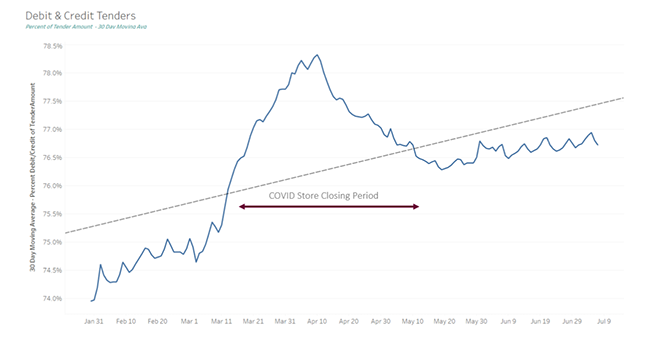 Part 3, Exploring "Contactless" Payments
To assess the impact of COVID-19 on contactless payment methods it is first necessary to define the type of contactless payments being examined. Payments categorized as contactless by retailers come in a variety of forms including, but not limited to: private label credit card in store lookups, stored FSA/HSA cards, "tap to pay" card transactions and mobile wallet based transactions like Apple Pay. For the purposes of this analysis we focused on mobile wallet and tap to pay transactions.
Identifying mobile pay and tap to pay transactions exclusively represents its own set of challenges since the number of clients with distinct tender types delineating these transactions was extremely limited. Most frequently it was found that the data was labeled by retailers with a standard credit or debit card tender types. The distinction of these transactions as contactless was commonly found in supporting tender data.
Appriss Retail's proprietary consumer transaction linking solution can attribute the transactions to the appropriate consumer using a persistent token. This was true not only for tap to pay transactions where the card retains the same token as is seen in a chip/pin transaction, but also for mobile wallet transactions where the wallet creates a second token to represent that card.
A MasterCard survey of 17,000 people showed that contactless payments are perceived to be safer than any other form of payment8. Therefore, based on industry trends and the potential that consumers may be more inclined to adopt a contactless payment method as a result of COVID, we expected to see an inverted relationship similar to what we observed between cash payments and credit/debit card payments. We did observe a bubble of increased uptake in contactless across all retailers, but the degree to which COVID significantly increases the adoption trajectory for mobile wallet payments will require further analysis in the future.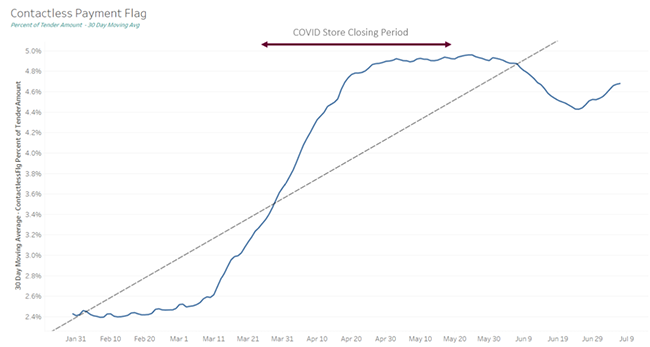 Please note that unlike tap to pay transactions, mobile wallet transactions can be either brick-and-mortar based or ecommerce based with wallets such as Apple Pay available during the ecommerce checkout process in some retailers.
Summary
COVID-19 retailer shutdowns played a role in moving payments further away from cash during the shutdown period. While re-opening has created some course correction in those bubbles, credit card, debit card, and contactless payments currently remain at levels higher than during the pre-shutdown period. Speed, safety, and risk factors are a strong possibility to have driven contactless payment use increase during this pandemic. Further analysis will be required as the re-opening continues to determine what level of increase is the result of sustained COVID-19 impact vs. other factors (such as seasonality).
Appriss Retail, through our proprietary consumer transaction linking technology, remains strongly positioned to assist retailers in maintaining cohesive consumer purchase and return histories even as the adoption of tokenized mobile wallets increase.
Limitations
While the aggregated data used here crossed several different segments of retail, it does not represent the entirety of the Appriss Retail client base.
Our global transaction database does not track the same metrics for all retailers, so each metric we analyzed may represent a different crosscut of retailers. In every case we ensured that multiple (and similar) retailer segments were included in each section to reduce the risk of segment differentiation driving any reported differences.
As new information becomes available, we will continue to monitor and report on the trends examined above.
To our client family: Thank you for your efforts during this pandemic. Regardless of which of our solutions you may have deployed, rest assured that Appriss Retail is a trusted, financially stable partner throughout this recovery period.
Our objective is to use both de-identified metadata from own clients and data from reputable sources to present a factual representation of this once-in-a-lifetime event.
© August 2020. Appriss Retail. All Rights Reserved. Proprietary & Confidential.

1 https://www.frbsf.org/our-district/press/news-releases/2019/annual-fed-report-indicates-increase-in-demand-for-cash-despite-slight-decline-in-usage-by-consumers/
2 http://www.creditcards.com/credit-card-news/credit-card-use-availability-statistics-1276.php
3 https://www.paymentssource.com/list/5-trends-driving-growth-of-digital-wallets
4 https://www.accenture.com/_acnmedia/pdf-62/accenture-driving-the-future-of-payments-10-mega-trends.pdf
5 https://www.investopedia.com/articles/personal-finance/040616/best-mobile-payment-apps-tap-and-pay.asp
6 https://www.investopedia.com/terms/c/contactless-payment.asp#:~:text=Contactless%20payment%20is%20a%20secure,%2Dfield%20communication%20(NFC)
7 https://www.prnewswire.com/news-releases/global-mobile-payments-market-to-reach-3-6-trillion-by-2024–300883957.html
8 https://mastercardcontentexchange.com/media/4238/contactless_infographic-global-2.jpg

Author
Renee DeWolf and Dr. Adi Raz, Appriss Retail
Renee DeWolf is the director, data sciences and modeling at Appriss Retail and an adjunct instructor of Data Science, Cybersecurity and Business at Utica College in New York where she also earned her MBA in Economic Crime and her MS in Data Science/Cybersecurity. She holds several industry certifications including Certified Fraud Examiner. In her free time, Renee serves as a board member of the National Association of Drug Diversion Investigators (NADDI.org) and is the resident data scientist at RI Rank. Renee is currently a doctoral student in the Information Sciences program at UALR.