As the U.S. economy heads into a second wave of COVID-19, retail operations professionals are bracing for what might come next. Thus, in an effort to understand changes in retail technology and where retail might be headed, we briefly examined this sector's performance thus far in 2020. Specifically, we researched what effect the "essential retailer" designation1 has had on retail performance and, likewise, what role ecommerce has played in improving performance.
Below (Figure 1) we look at year-over-year same-store sales across 15 large retailers in the United States – five of which were designated "essential." 2020 dollars are plotted as a percentage of 2019 dollars using a 7-week rolling average.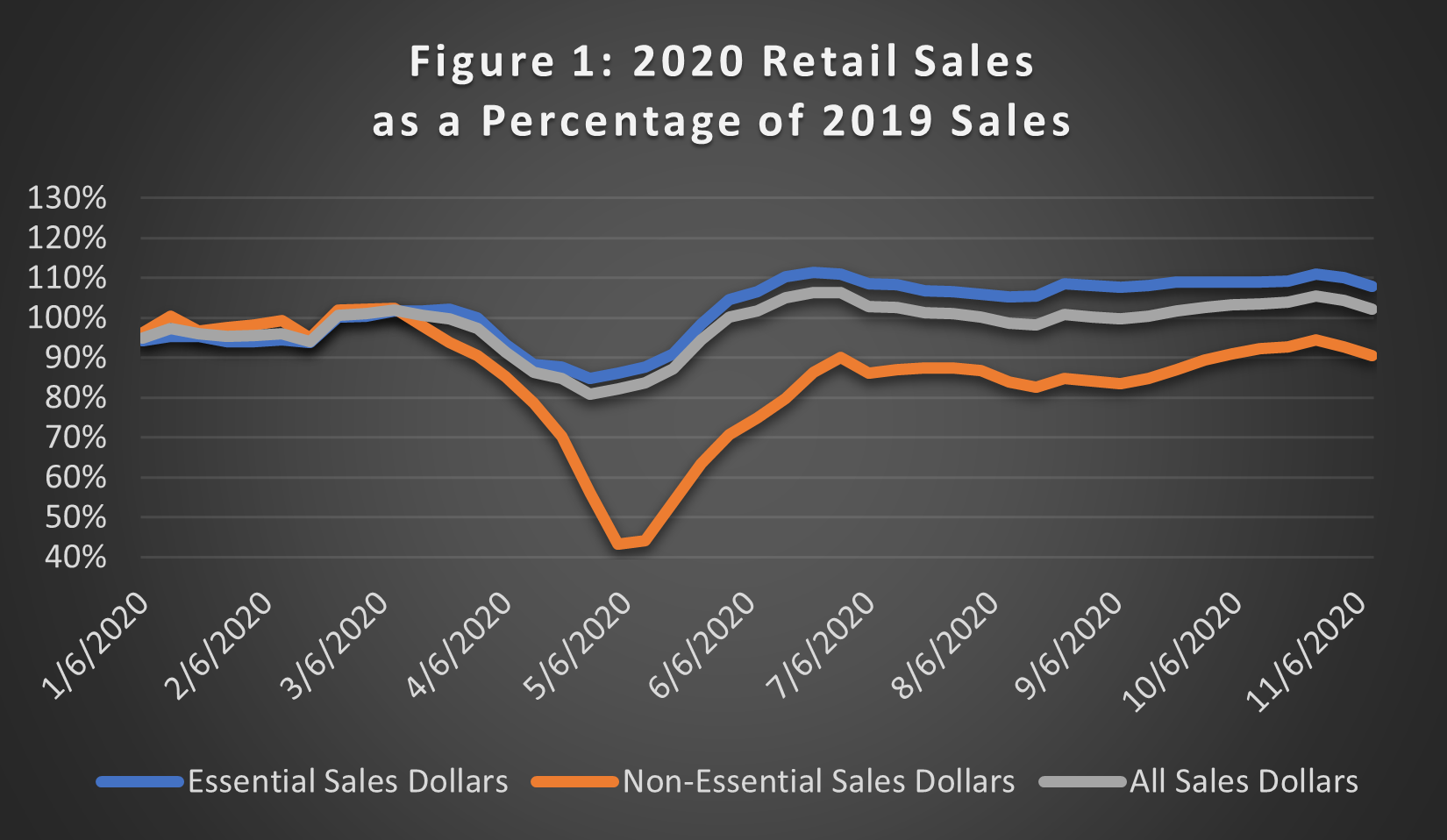 Notice that until mid-March both essential (blue) and non-essential (orange) retail sales for 2020 are tracking right at about 100% of their 2019 dollars, whereupon non-essential retail sales begin to drop off until reaching a low of 43.2% on May 4. In contrast, sales at essential retailers did not begin their dip until two weeks later. Although essential retailers would then see same-store sales slide for the next two months bottoming out at 84.8% on April 27, business has remained 5-10% above 2019 since May 31.
Clearly, having been designated "essential" has helped some retailers weather the storm thus far, but the demands of the COVID-19 pandemic have meant drastic changes in shopping behavior. While these changes have taken their toll on American retail, one behavioral change has been most significant: the rise of ecommerce. Major chains that had the retail technology in place quickly shifted their emphasis to what became a vital channel that sustained retail operations.
Ecommerce Surges for Essential and Non-Essential Retailers
Since the advent of online shopping in the mid-1990s, pundits have been predicting doom for brick-and-mortar retail. Yet despite the steady if modest growth in the ecommerce market share, in-store retail sales have continued to post gains year after year. In fact, as is seen in Figure 2 below, the first quarter of 2020 shows the same percentage of ecommerce spend as that seen in 2019, as though an equilibrium between online and brick-and-mortar shopping had, after 25 years, perhaps finally been reached.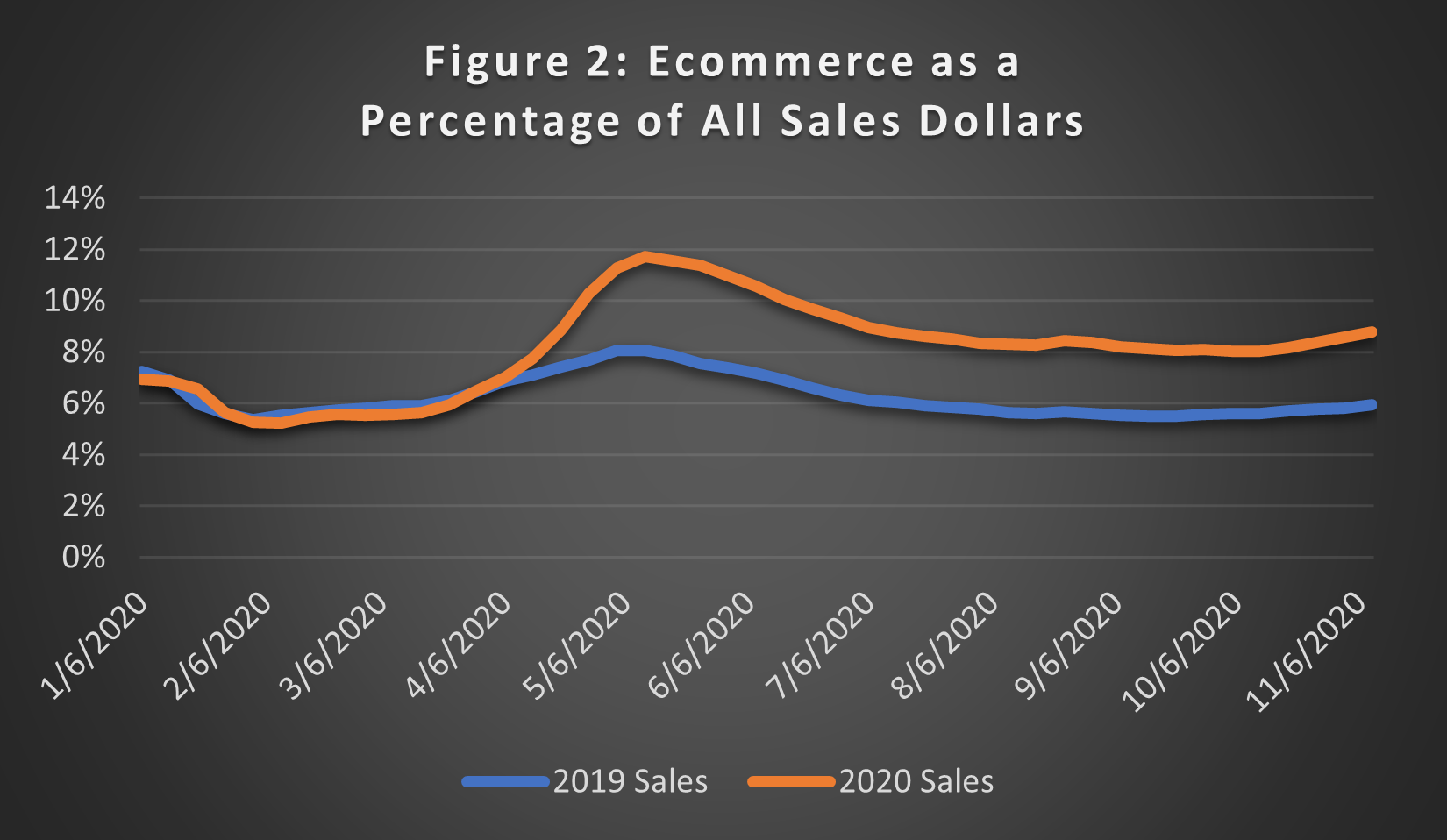 It was only in the first week of April – three weeks after a national emergency was declared – that the percentage of ecommerce sales began to separate itself from the year prior. Since peaking at 11.7% of total sales on May 11, 2020 ecommerce has averaged approximately 9.4% of sales. Comparing this to 6.3% in 2019 over the same period, ecommerce sales have seen a boost of nearly 50%.
As one might suspect, the move to online shopping was largely driven by the temporary closure of non-essential retailers that peaked in mid-May, as Figure 3 shows (below). Important to note, however, is that ecommerce is also up (albeit slightly) at essential retailers.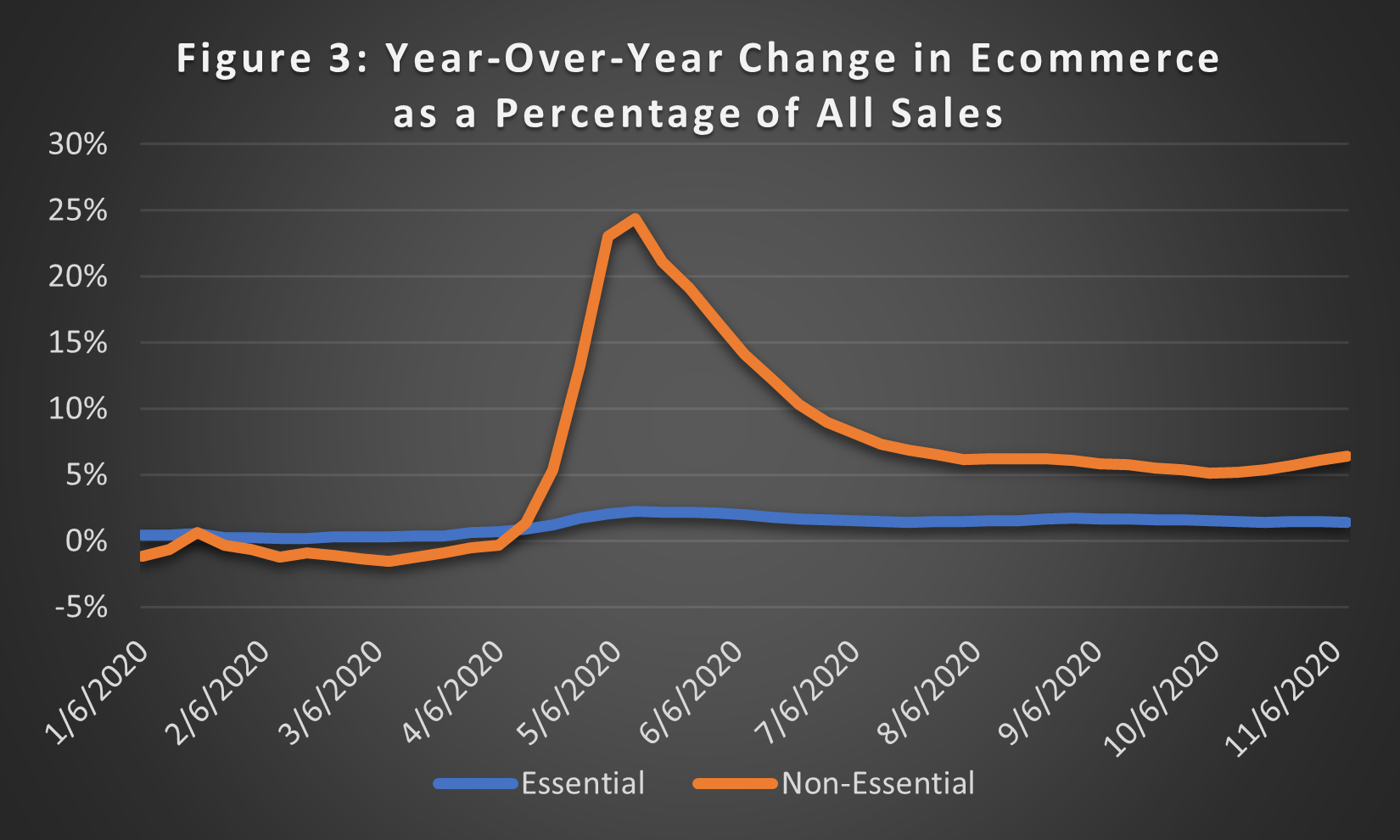 Omnichannel – The Essential Retail Technology
Undoubtedly, the winners so far have been major retail chains with existing omnichannel functions that they could ramp up quickly to meet demand for ecommerce direct ship-to-home as well as curbside pick-up and eventually BOPIS (buy-online-pickup-in-store) when store opening allowed. Thus, while the retail marketplace sorts itself out with new norms around social distancing, mask-wearing, and in-store limits on the number of customers, American consumers are turning toward ecommerce. It remains to be seen whether this increase in online shopping remains the "new normal" or settles back into its pre-COVID equilibrium. You can look for more research on the impact of COVID-19 on retail operations in the months ahead.
1The "essential" retail designation varies by municipality, but very generally speaking it is given to retailers selling consumer packaged goods (including pet food and supplies), home supplies, auto parts/repairs, and pharmacies.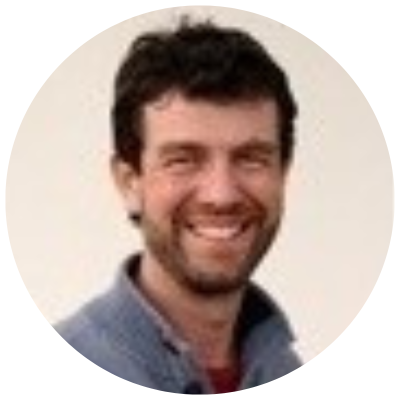 Author
Chris Hanks, PhD. Director, Data Sciences, Appriss Retail
Chris Hanks is the director, data sciences, at Appriss Retail and is based in the Irvine office. Chris earned his Ph.D. in political psychology from University California, Irvine, where he was a senior predictive modeler at the UCI Center for Statistical Consulting. He spent seven years as a neuroscientist before moving to retail analytics in 2011. Chris is involved with American Statistical Association where he has held a chair position.